I am so excited to share today's project with you.
After Halloween this year, I was candied out. The kids weren't, but I was. So when it came time to start thinking of Advent Calendars and the like I did not want your typical chocolate-bearing calendars. Besides the fact that I'd have to buy 3 of those suckers, I just didn't want to hand out any more candy to my kids.
I've done other countdown calendars, and honestly they were just too much work. I'm going for simple.
So while walking around Target one day, I saw this little number.
Now $15 isn't bad, but I knew I could do better, and if I couldn't then this adorably snowman was going to be coming home with me.
After a trip to the craft store, I ended up with an adorable wooden sled, clock hands, and some vinyl calendar numbers. Then it was time to find some inspiration.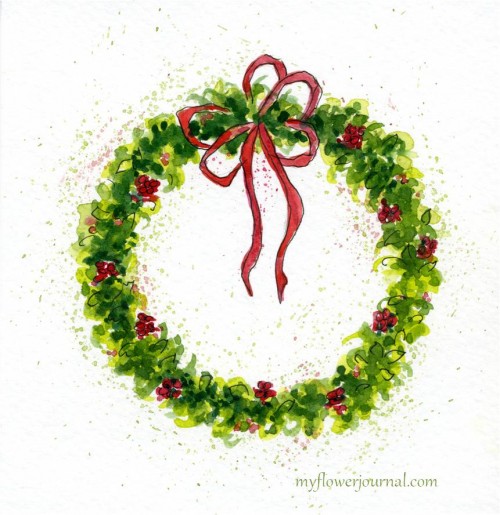 It's perfect!
So when Baby Girl went down for her nap, I pulled out the sled and my super adult crayola washable water colors. Yep, I used kid paint.
Then I had at it.
I added the numbers first, because I didn't want the wreath to overlap them, so I used them as a border. I simply traced around a plate to get the circle. You can also see the hole drilled for the clock hand.
Then I just added the clock hand. Some washers and a screw was all I needed.
I love the watercolor effect on the wood. I didn't really have too much problem with grain spreading the paint. I noticed that if I put more paint than water the wood wouldn't pull it out too much, so I just kept that in mind as I went along.
The calendar now hangs in the kitchen, front and center to the hub of the household. Miraculously, there have been no arguments over who gets to move the clock hand. They've been self-disciplining themselves. One gets to move the calendar, and the other gets to turn on the Christmas lights. Baby Girl just gets to watch.
Oh I did try sealing it, and without thinking I smeared some Mod Podge on it. Then realized that Mod Podge was water-based, and it was smearing. Oops. Luckily, you can't really tell, because only half of that top pine bough got sealed. I'll have to spray seal it later.

Oh and I think I spent about $10 on my calendar. Sorry Target.


I hope you guys enjoyed today's Christmas project. See you later!

Linking up to: